I have a dream!
Good morning ladies!
Before you read about the new challenge we have an announcement....
Our scrapping buddy Melissa has decided to move on to pursue some new endeavors .....we will miss her but we know that she will be super successful wherever she goes! Thank you M. for all of your hard work, inspiration, and dedication!
Now for this weeks challenge....
*What is one of your current goals you are working towards? Everyone has dreams, scrapbook about one of them!
I have done my layout on my youngest son Drew, and used a poem for my journalling...
Papers used were a Jenny Bowlin bookprint, K and Co Paper, stash from Ruby Street Designs (library pocket, dressmaking pattern tissue, wallpaper cutout, beaded trim)
This is probably my most favourite photo so yes I had to scrap this one again....
Well the start to this week has been full on, I have locked down my house well did that on Monday so I'm really excited so had to show and tell my new home..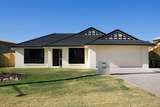 And this is some stuff I received yesterday I have one more embellishment kit coming from Ruby Street Designs, and yes I was supposed to be saving but somehow I made my shopping budget smaller so hubby told me to just buy it so he wouldn't have to hear me whine lol....
Did I tell you I sulk when I don't get my own way, awful habit and one I can't seem to break....