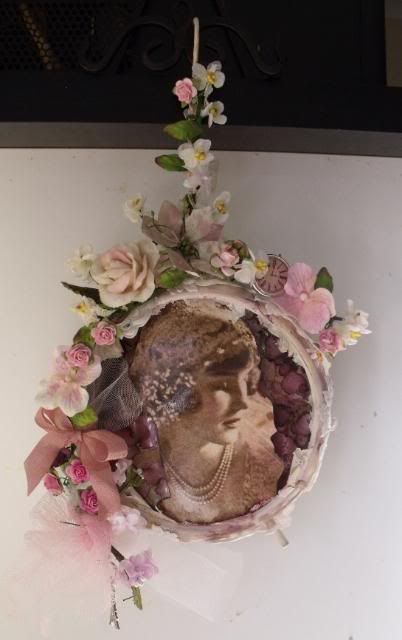 Good Morning Everyone,
Nearly the weekend so can't wait I'm looking forward to having a sleepin, on at least one of the weekend days... Not much planned for me today going to take the kids to the park for a play, get that dreaded housework done, finish reading off a book I'm reading and then try and fit in some scrapping sometime during the day......Oh hang on I was going to get on the Wiii fit and do a workout.
How are you all spending your day?
Well last night my Graphic 45 papers came so seeing as my little poll looks like a Romantic theme is in order I was itching to get started on it so I've used a couple of alcohol inks around the edge of the paper image on the top of the glass, underneath my glass I have placed a cream lace doily which I have pulled out in the front of the glass to give it a distressed kind of edge to it...
I have used a prima vine to start off and have wound it up the hanging chain to this I've added some little prima roses a couple of flowers from My2angels, some tulle, pink netting, a kaiser clock brad....
Top photo was taken this morning
If you use distress inks what are your two favourite colours?
Mine would have to be vintage photo and Peeled Paint.....