Well last night I took some photos of Alicia hopefully one of these will feature in my Let's get shabby challenge just got to pick one and it's so hard to choose one photo, so if you were me which one would you choose, and yes the monster Drew had to be in one as soon as he saw me with the camera he went into smile mode.....
Hubby had an early start this morning my chance for a sleep in went out the window as of course he had to bring me in my morning coffee at 5.30 am so couldn't fall back asleep so I have started reading A Respectable Trade by Philippa Gregory which seems really interesting here is a review on her book.
"
Once again Philippa Gregory brings her unique combination of a vivid sense of history and inimitable storytelling skills to illuminate a complex period of our past.
Powerful, haunting, intensely disturbing, this is a novel of desire and shame, of individuals, of a society, and f a whole continent devastated by the greed of others."
Well
some pretty things to feast your eyes on start here at The Vintage Garden, how about this hanging in your lounge room
and this beautiful little table I think I could find a place for that in my bedroom.
or this beautiful dress that is just so stunning.
Or what about these Victorian gloves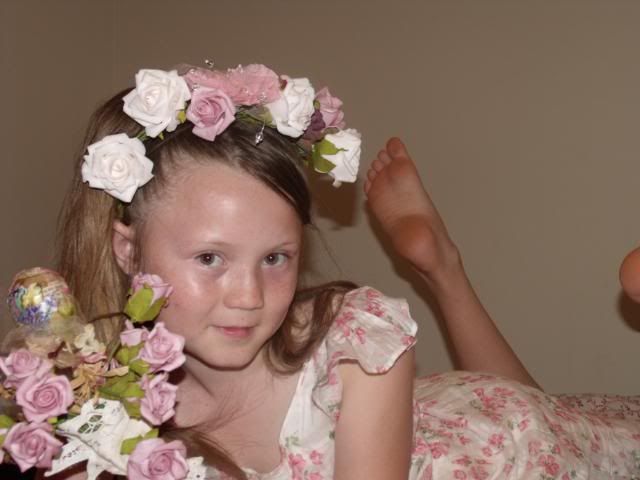 This is my Art Money challenge for Project 52 I've transferred my image onto material and used masking tape, strips of paper, fabric and then added packing tap transfers over it as well.... I have to say this one had me stumped until today and then realized that it was due so lucky for me it finally came together in the end...