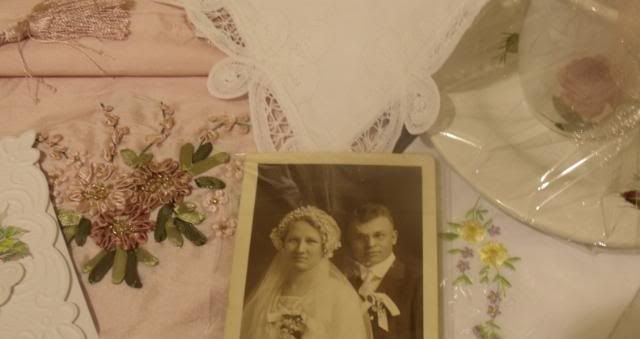 Just a little teaser of what is in my swap parcel for Peta, I'm still waiting on my something old surprise first one arrived broken so had to frantically search around for something else to replace it so it should be rockin up any day now so I can send it on it's merry way..... My something borrowed and blue aren't in the picture otherwise I will give it all away but the something borrowed is from my home and it's something that I love and treasure so hope Peta will like everything I'm sending her........
Talking of other swap's I'm partnered with Rae from Scrap Matrix for my shabby altered noodle box swap so going to start working on that next week, got to get hubby on his merry way so I can work on it in peace and quiet, so it's me and the kids alone for 5 weeks hmmmm will I be sane by the time he gets home lol....
I'm also waiting for my swap partner for the Vintage Vacation swap I'm so
looking forward to gathering my goodies for this next one, I really enjoyed finding things for Peta actually I wanted to keep half of the stuff myself..... So I should know by tomorrow who I'm sending too......
Okay got a cute photo to share of the munchkin not the best quality photo my lighting in my lounge is shocking but he was reading his mini books to our cat Keiko