Howdy howdy,
Okay been missing from the blogging scene for over a month, usual things have kept me from scrapping and blogging yes you guessed it little miss princess.....
This little poppet is mobile now so no place is safe have to watch her like her a hawk, can't believe she is just over 8 months old now, man time is going so quickly as is she......
Finally done a xmas page for the family album starring little Miss, but it took forever getting my groove back but I'm on a mission to make the time to scrap I'm marking free time in my diary to ignore everyone and do some crafting........
Now that hubby is back from his promotion course yes he was away for Valentines day but surprised me with a new ipad, so now were both figuring out what to get for each other for our 22nd anniversary.
Today he asked me what date our anniversary was on and I said the same day as him, and he said yip I said the same, then I checked our marriage certificate and it was three days earlier........
God the pair of us we sure make a good team lol......
Just started an online Tafe course so got all my learning stuff on Friday, hubby surprised me with a new laptop, and it was the one I wanted with good gaming graphics yes I'm still a gamer....
So have begun to study, first units are all the medical sides of it, so need to pay attention and remember remember remember.......
Now talking of scrapping just got my order from Scrap Therapy just a little bit of this and a little bit of that,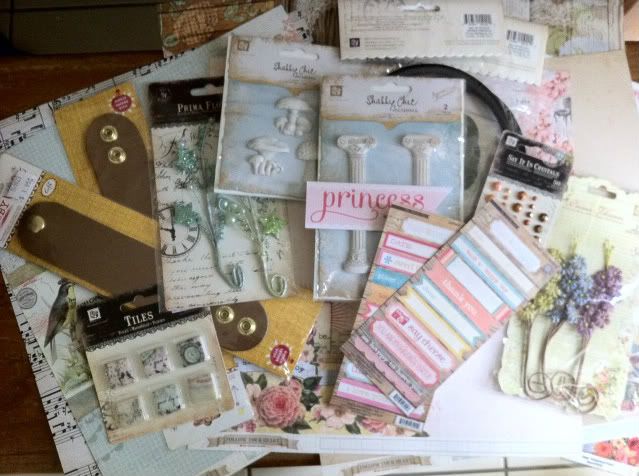 Really love the idea of those wrist bands, but need to be on the look out for more kinds of embellishments so I can begin work on them, has anyone got any of the new Prima yet? I just placed an order this morning I love the look of Natures garden's and the Songbird collection so can't wait for that to arrive so check out Anna's Craft cupboard as it's just gone on the shelves......
So this is my first xmas page for the papers for this album I'm using old 7 Gypsies as I really love that range of colours but I'm using small amounts of the xmas range of Simple stories so a bit of the old and the new.