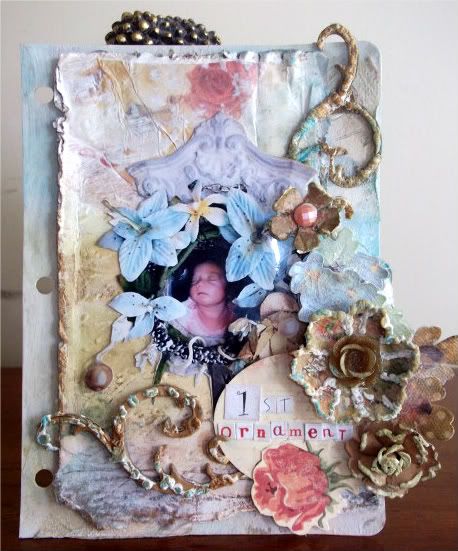 Yes she's back back again!
Another blog post alright I have an Eminem song in my head and it's driving me crazy but I guess it's better than Family Guy's bird is the word song that took ages to get out of my head...
So it's Tuesday am yesterday it just poured down so glad were at the top of a hill and not low-lying, and I was able to play with my scrapping stuff and get my hands dirty playing with gesso, my big shot, distress inks and puff paints......
This is another layout for my family Christmas album I really enjoyed making her first ornament so decided to do a page on it, I really love the mixed media side of scrapping right now so I decided to not use any scrapping paper and just work with a piece of pizza box and chipboard for the actual page...
Then just embossed, covered it up with gessso, added some napkin and floral tissue paper's to it, covered it again with gesso, and brought some colour onto it using inks.....
For the embellishing have used
Tim Holtz's flourishes x 2
tattered floral flower the small and large one which I've added layers of tissue and napkin and puff paint too
puffy paints,
Kaiser diecuts
This is a photo of the page in the album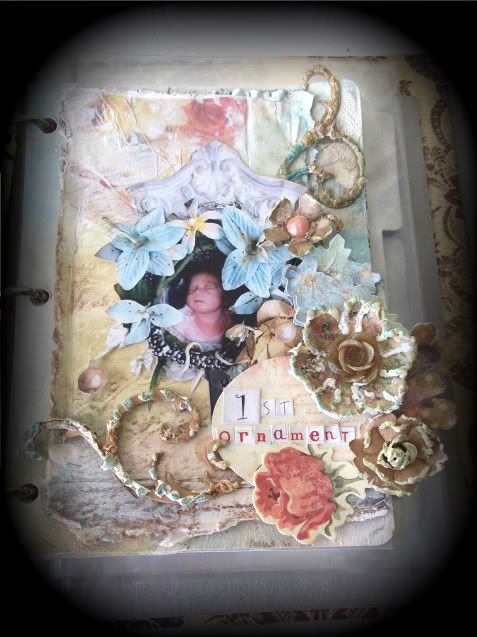 Now better got off I have a ton of reading for my course that I'm supposed to be studying for and three kids sick at home with a spewing bug so no more time for myself today........