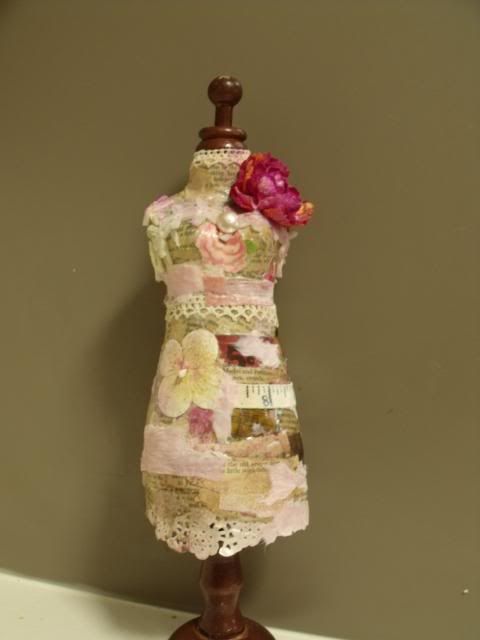 Hmmm well it's been a weird day, it's kind of different having one child off at camp go to call him and of course their is no reply then I realize he's not even here, and I just miss him not being home....
I'm Praying that he dosen't sleepwalk his way out the cabin door which we have caught him doing whilst staying at a hotel.....
Been working on an altered dress form that I received from Toni last year I wanted to do it collage in style as that is what I'm liking right now in my OTP's, these colours so represent me right now just so love the colour combo...
It hasn't dried yet I really should of waited until it was completely dried, but the way the weather is looking today probably wouldn't of got a good picture later on...
Next project I want to work on is a gothic arch got a fabulous image for it just got to print out my template and give it a go, might step into my darkside for the next couple of projects....
Who's attending Scrap Therapy's cyber crop this weekend, I most certainly will be there, got to make sure I have some photos taken in time so I'm prepared for the challenges.......
My gosh can't wait till payday Scraptherapy has some 99cent papers that I want to pick up so I want to get a couple of the Old Basic grey ranges and a bit of prima as well, and then I found some eggs at Blue Bazaar so I'm going to get those for a little project I'll be working on later in March....
Right hubby says I have to go and lay down so I had better do it it sux being sick especially when you just want to play with your toys....
Question for the day is:
What is the latest book you are reading?
Mine is one by Lesley Pearse called "Never look back"