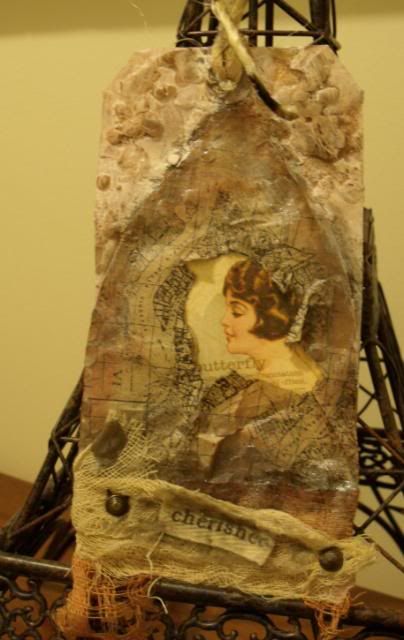 Well I haven't done too much scrapping today I've been working on my last swap which is my petite one but so can't concentrate with kids running around like the house like it's the end of the world, but I did spot a mini arch challenge at
http://gothicarches.blogspot.com/2010/04/mini-gothic-tags.html
so thought I would give it a go as I enjoy making tag's......
I've started with a basic tag and distressed and crumbled it with inks, perfect pearls then I have added my arch which I used a plain paper brown that has been stamped with a darkroom door stamp, added my image under it...
And then just tore my arch to showcase her face, then I have used a couple of different materials, little gold nails, and then dripped candle wax over my tag mainly around the edges of my arch to highlight it and bring it into focus more....
And okay I brought myself a little something now I'm not into bling bling but I saw this little cameo and earring awhile ago and they appealed to me well I finally back to see if they were there and they were so I just brought them even hubby likes them so that's an even better bonus....
I picked these up from Beth Leintz's etsy shop aren't they pretty.....