I have just finished making my two whimsy jars for my two partners I will show you a sneek peek of my friend Ngaire's one and this is the other one I have made for my other swap partner.....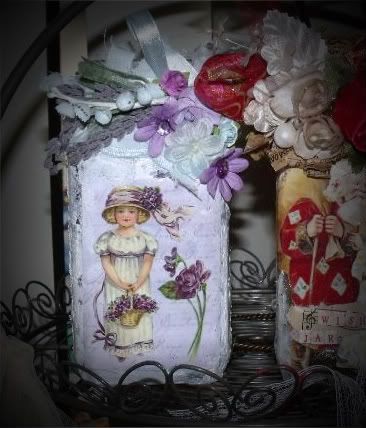 These were from this swap above at
http://jessicarodarte.blogspot.com/2010/06/whimsy-jar-swap.html
I have used the colours white, purple and pale blue for my swap partner Megan and for Ngaire's seeing that it's July I thought I would go with something different and do a Christmas in July wish jar in the colours of cream, red and brown....
I still need to find things to fill them so will have to go shopping for the contents for each of them, now seeing that Megan's craft is sewing I will fill her's up with sewing goodies and as for Ngaire I think a little bit of this and that for her's.....
I have really enjoyed doing these altered jars I didn't think a pasta sauce jar could look this good lol, so I am really thinking of doing an altered jar/plastic jar swap soon, so if your interested just let me know......
Now as I was creating these last night look who decided to make himself at home in my craft bag he looks so peaceful there, I think Keiko was hiding from the two little ones who love to carry him around in shopping bags.....Now dosen't he look peaceful.......
My hubby is on his way home so he should be home sometime tomorrow unless he ends up driving all the way home tonight...... So this girl had better get her house clean, time to drag sleeping teens from their beds and give them their chores to do... I bet the first thing they say but it's only Friday I thought we only did this on a Sunday lol...
Right gotta go and wake up the teens.....