Well I did have good intentions this weekend my plan was to do some scrapping I did start on one of the challenges an atc but I can't show that just yet, finally went to see Eclipse at the movies on Saturday and then had lunch out with the boys, Alicia had been grounded as she refused to clean her room so she wasn't impressed at all when she had to stay home.... But she was warned......
Now yesterday I was going to start altering a jar and candle for a challenge that I'm doing but I didn't have the right sized candle so I went in another direction and made my christmas wall hanging, I got a bag of mixed christmas items at Spotlight after xmas so I went hunting thru that for some of the embellishments like the little drum, present etc.....
And came up with this wall hanging that was originally on a piece from an old kaiser album but then I attached it to this frame...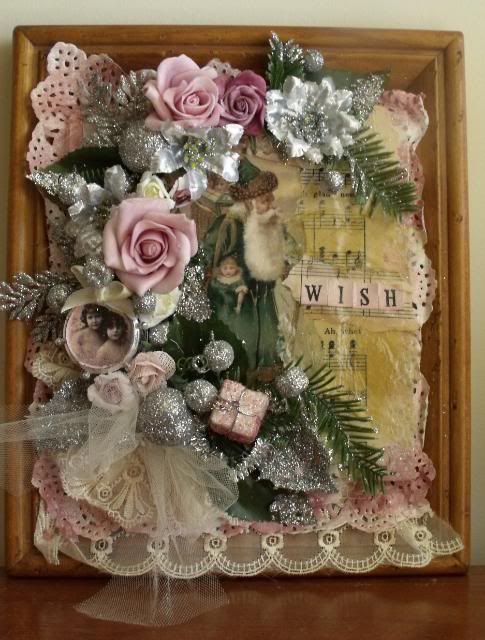 Now this picture shows my little drum that i have altered with a little image
and then this last picture is a side view of my embellishing.

Now I wanted to say a big thankyou to
Cindy
Who made me this gorgeous tag, mine is the together one, Cindy is a sister in the bloggerette sorority she makes such wonderful things so check out her blog above and be inspired....
Well school starts back again tomorrow and hello can I say that I'm relieved and jumping for joy that it's time for them to go back I swear when the kids are on holidays my grocery bill goes up another 100 a week and when your bill is already at the 600 a week mark you start to say ouch......
So I have a few things I want to work on this week and they are
: scrap a couple of layouts
: make an altered xmas jar and candle
: will be working on circle journals I think I have three coming my way
: work on my petite bead boxes
: start working on what swap to host next
: make something for my vintage vacation and seaside swaps
So my week is going to be full on now what about you? What have you got planned for the week?
Okay just had a parcel delivery so had to share what I got as it was from one of my swap partners the lovely
Ngaire
, she made me this gorgeous jar using the Collection's range of paper's that I so covet and inside bursting at the seams were these lovely goodies..... Lots of gorgeous lace, trim and ribbons, a little keyring from her part of the country, a beautiful pearl necklace and earrings and this gorgeous altered spool......
So without further ado this is what I got....