Morning Everyone,
Well yesterday I had a lovely day my girlfriend and her hubby came up from the Gold Coast to spend the day with me, so we had time to catch up on all the gossip even though the coast isn't that far away, we don't get to see each other that much. Mainly because my other half tends to work on a weekend and neither of us drive.... Yes shock horror I don't drive nor do I want too, I think I would be one of those road rage drivers so why even go there, and the promises of an old jaguar (my favourite car) dosn't even tempt me to get a licence.....
The last day I have been working on a petite box ornament for one of the kid's teacher's I thought I would do something creative to go with their xmas present's this year so I have made this one for Daunte's teacher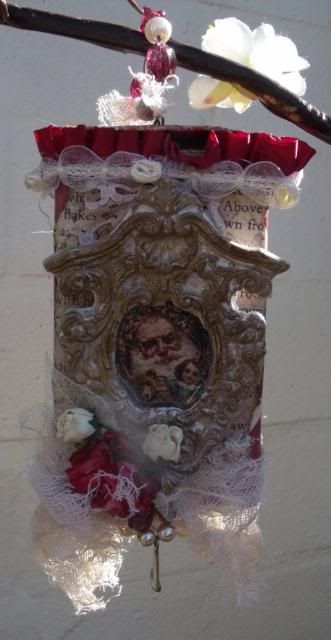 I have to say I really enjoy making these and the little art frame moulds just fit perfectly on these size matchboxes.....
I'm expecting my new prima and 7 gypsies order today from
Blue Bazaar
so I'm waiting patiently for my postie to rock up and ring that doorbell so hurry up already I want it now lol....
Then I am going to start work on my private swap with Tabitha I have the perfect image that I received from
Lynne
just for adding this website button
to my blog so girls click on the link add Lynne's blog button to your blog and you will receive two image sheets of your choice, how wonderful is that....
Now I'll be back later with a photo of what the postie delivered, catch you soon and thanks for dropping by my blog....
Well my postie just dropped off my order gosh it was quite heavy so here is what I got....
And then of course I got some of the papers this is really the only one I liked out of the collection so I stocked up and brought a few of each paper....Don't you just love those carnation vines these really called out to me to buy them, I wasn't really fussed with the other flowers no doubt I will buy them but the vines are fabulous....
Can you guess what papers I'm going to use on my private swap with Tabitha now lol?