Hello Everyone,
Well the last couple of days the weather has been so warm and sunny, not exactly winter kind of weather which I love, but at least we have been able to do all those outside kind of chores you know the ones I hate mainly weed pulling lol....
Altered a little tin yesterday which is the only thing I have done craft wise all weekend have a few things on the go that I'm working on so will be able to show and tell those later in the week.....
I found this cute little silver trim the other day while I was shopping and I have used this to decorate the edges of the tin cover, and then have painted the tin bottom silver, and used my heat gun to create this paint effect....
Well I finally got my ipad the other day and I have been playing with my new toy ever since I got it, just found out there was the next season of the Tudors so have got that all on there now, it's such a handy item the only thing that should of come with it I think is headphones but that is my only complaint....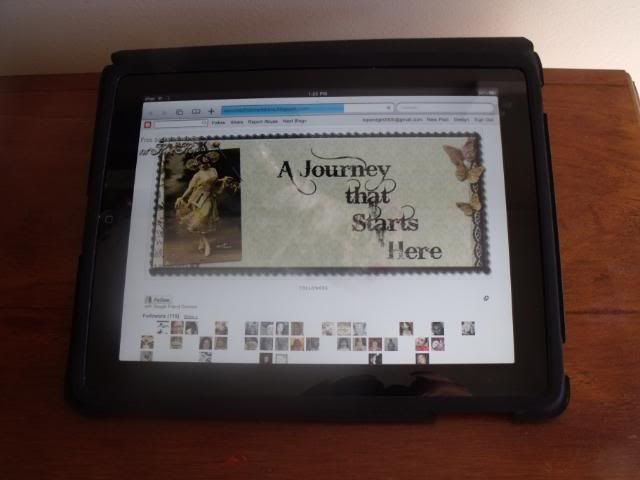 Now a friend of mine Tabitha is hosting a swap over at her blog
back to school cigar box swap
she is also having a giveaway as well if you follow her blog so why don't you go and check it out...
Here are the swap details
I am invisioning book pages, flashcards, corregated cardboard, lovley trims, tea dyed tags, buttons and general crafty goodness ... This swap will be open to 20 participants or until August 7th. Your packages should be in the mail to your partner by September 1st. I know that is a short amount of time but Halloween is just around the corner.
For this swap each participant is to fill a cigar box no smaller than 5x10x2 inches. (Of course you can always go bigger) This swap is one on one and the box is to be filled with lovelies and no DESTASH . To particpate in this swap you must be an active blogger. If you are interested in playing along please email me at
info@creativewingsboutique.com
with your name, address, and favs. I will email everyone August 8th with swap partners.
Now for the extra bonus! If you blog about this and link to my page you are entered into a drawing for a sweet surprise. If you become a follower you get another chance. If you particpating in the you are already entered. So particpate, link, and follow and you have three chances to win. I will post some sneak peaks of the prize pack every week.
OK ladies invite everyone you know who loves to swap!!!

Okay I'm back I brought this Twiddleybitz winged shadow box last week from Scrap with V and this is what I have been working on this afternoon, now those who know me know that I want a shabby style christmas this year and my goal of making an ornament each week, so I have created a winged xmas tree topper to sit at the top of my christmas tree this year....