Well today I was blog hopping and found a wonderful creative site called Brave Girls club
http://bravegirlsclub.com/
and signed up to do a couple of the online workshops, I don't seem to do much about me anymore I think I lost myself but am slowly finding myself once again.... So I made time to create today probably the worst time to start as hubby was home today recuperating from a painful biopsy..... But alas I did and my mojo has decided to return....
So anyway I decided to do something simple and signed up for the vintage wall art class but then realized I would need to go shopping for supplies so I ended up buying the Soul Book class as I knew I could at least make a start on the book.....
Here is the link check it out and tell me what you think, what I love about it is these talented artists Melody Ross and her sister Kathy are just so down to earth their videos describing their courses are just fabulous and you just want to do one or all of their classes.....
So this is the cover of my Soul book, you learn how to make these books from scratch this is what I started working on this morning after I had put the book together and bound the spine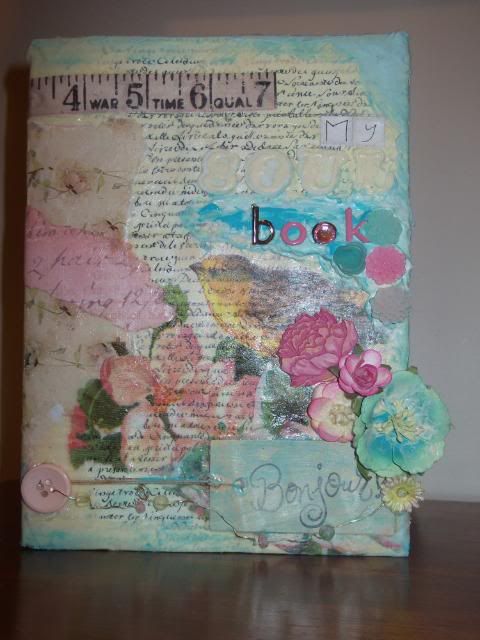 My finished cover
Finished first layer of cover needed to add more dimension
I took these pictures tonight so might try and get a better photo of my book tomorrow......Right gotta fly the babe has just woken crying for a feed ciao for now...
ps
Alicia and I are signing up for the brave mothers and daughters online class next week what a great project to do for the holidays, so were both super excited...