Well finally got around to getting my first letter done in my art journal last night, was still playing with it early this morning but now it's all finished and I can go onto the letter B.... Hmmm what B word will I choose any suggestions?
Right just a wee short post this morning as gotta take the boy to his skating lesson, I'm hoping he will learn to stay up for more than 60 seconds, gotta love Daunte's determination he falls so many times but gets up and keeps on going, whatta a boy just love him...

Oh and this is my ATC for ART's new act swap for Jan

Okay back again got to pop into my local scrapping shop and pick up some of the new K and Co handmade range of stuff, so I'm in heaven just so love all the embellishments they have to offer you, in the end I got one of the Handmade Paper pads and there are a few of them to choose from so that took for ever, I ended up getting the Lofty Nest one....
Then brought the handmade diecuts, the Blossomwood diecuts and acetate pieces, and then the handmade emphemera pack of embellishments, some gorgeous Lace fabric art frames and some feathers, and a little pack of the Prima roses that I adore...
I've been motivated today and started and finished my B word for my art journal its "Because" and I've done something different and used masking tape, coloured pencils for my background, and then filled it in Jenny Bowlin alphas, string and finally used some of my old K and Co diecuts.....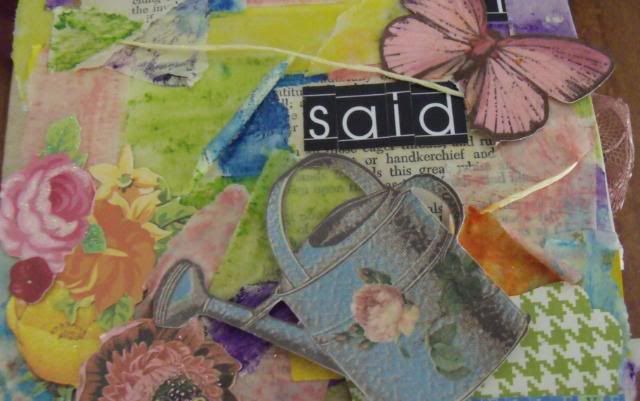 So all in all it's been a good day today, the kids had a great day at their skating lesson, and I've found time to scrap...