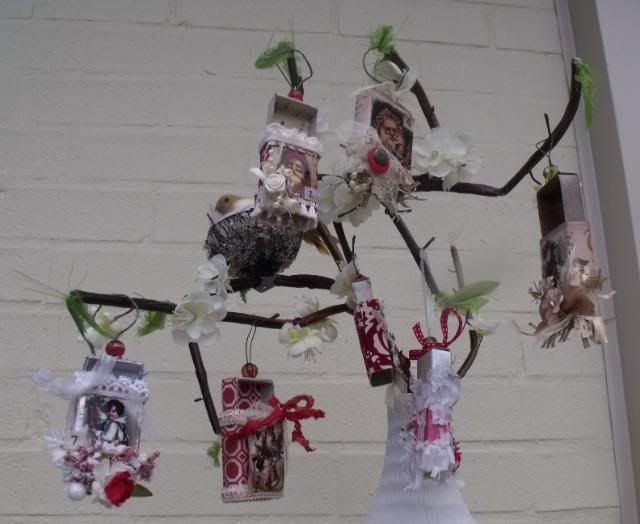 Okay well I posted on Monday that my goal for this week was to finish five of my christmas matchboxes and hello I did 7 today and burnt my finger on my hot glue gun, forgot that it gets so damn hot quickly so note to self quit checking with your finger to see if it's hot lol...
I'm doing a mixture of colours for mine so it's fun putting each matchbox together wondering who will get each one, I already have a couple of favourites one is the one with the little girl I've used skeleton leaves to give her wings and I so love the way number 4 turned out I think I' going to make a bigger sized matchbox for my tree just like that one....
Now I'm hoping to get another 7 done by the weekend so keep your fingers crossed that I can find the time to craft in peace, normally my household on a weekend is action/drama packed what with teens having their friends over, the little ones fighting over whose going to play with the toy that of course they both want to play with, and then the kids arguing over what movie/game to play on tv it's never ending in my house.....
And of course the other half hides himself away playing his guitar so he can't hear anything ohh what a life lol....
I'm thinking of hosting a new swap I think it maybe a cameo inspired petite box swap so if you think your interested just leave me a comment.......Here is all the details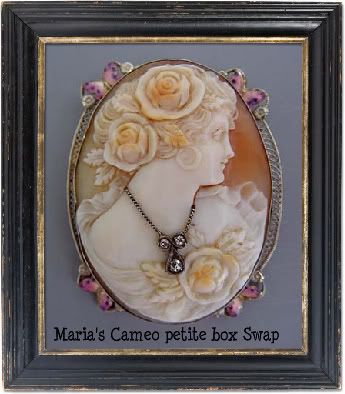 Marias Cameo Petite box swap
Sign up's until Wednesday 13th Sept
Send out date by Oct 15th....
Sending to two swap partners
You will need to decorate a big sized matchbox and fill it with at least
three cameo's
lace
ribbons
vintage buttons/beads
a small bunch of flowers
5 different charms (good quality ones)
And then make a tag for your swap partners
You will be sending to two different partners if you can only send to one let me know as there maybe others who can only send to one person.
Please don't sign up if you don't feel you can get this swap signed up, bad swappers beware...
Email me at topendgirl2000@gmail.com or leave me a comment here.......