This was the challenge:
Challenge:
Make a vase from scratch or decorate an existing vase. It may have any shape and any size, made of any material. E.g. it may be a vase that's not used for flowers and has only decorative function. Don't forget to use scrapbooking supplies!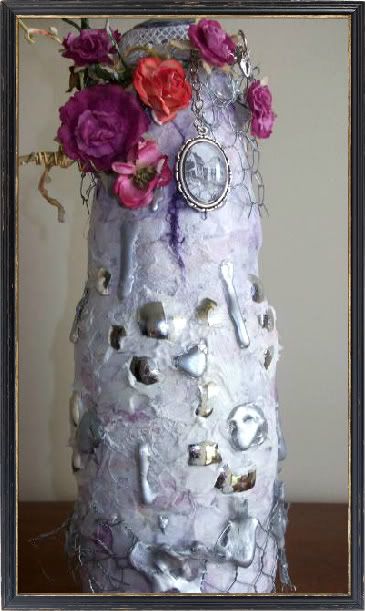 Okay so I didn't have a spare vase lying around but I did have an an empty V8 glass bottle so decided to do a this particular colour scheme as it will match the new bedding I'm getting on the weekend....
I've used prima meadowlark paper, tissue paper, gel medium, texture paste, chicken wire, and then a few odds and ends to decorate it all up.......
Thanks for a fab challenge can't believe I saw it this morning and got it all completed in two hours....
http://altered-art.blogspot.com.au/2012/02/14.html